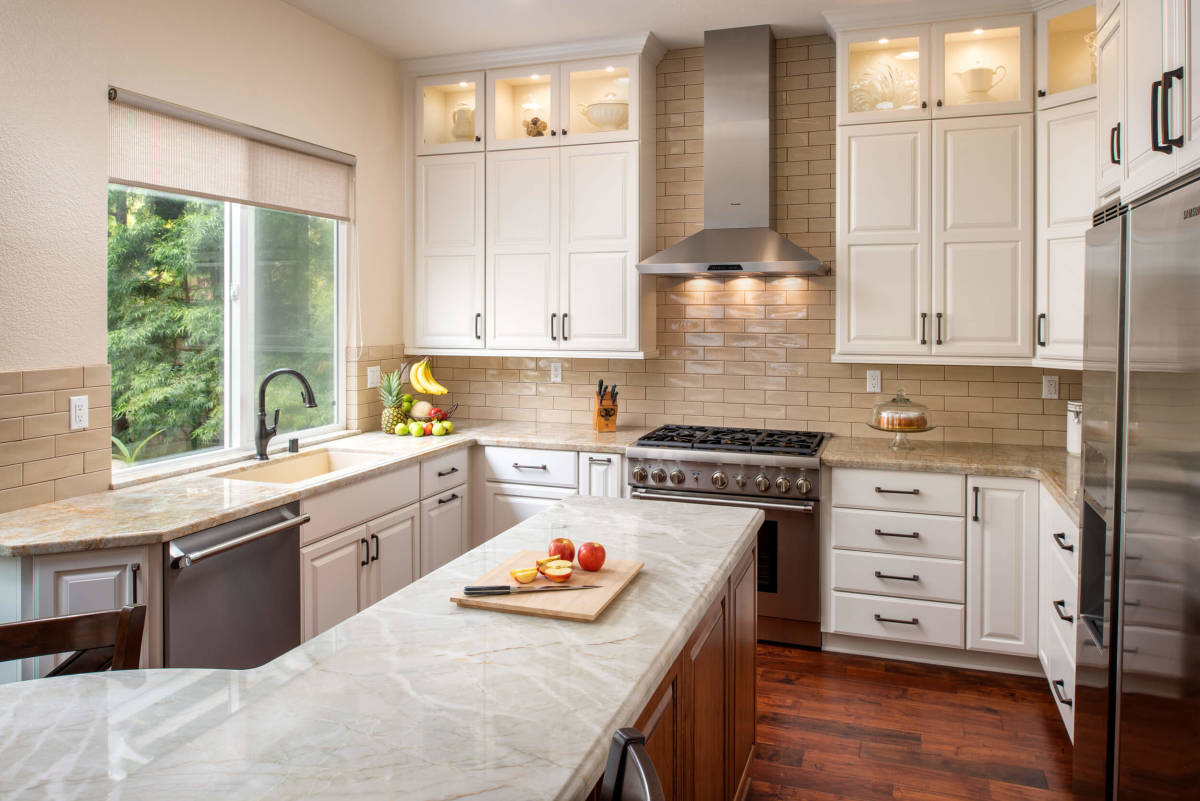 Many people spend a lot of time in the kitchen, whether preparing meals, having them, or spending quality time with loved ones. If you're one of such people, you might have grown bored of the sameness of your kitchen. A kitchen design company can get you started on updating your dream kitchen.
Maybe you've been staring at the same walls for years or using the same appliances for a long time. Perhaps the lighting could be brighter, and the countertops sleeker. Whatever it is, you're in the mood for something fresh that will transform your kitchen into the stuff of kitchen remodeling catalogs. What you want is a kitchen remodel.
Not only does a kitchen remodel refresh the look and feel of your kitchen, but it also increases the resale value of your home. It also makes food prep and cleanup easier and is energy efficient.
There's a lot that goes into remodeling a kitchen, material-wise, time-wise, installation-wise, and cost-wise. The cost of a kitchen remodel varies from project to project, because no two remodeling jobs are the same. According to Forbes Home, the average cost of a kitchen remodel is $25,000, although it can get as high as $60,000 and as low as $5,000. Read on to learn more about the cost of a kitchen remodel.
How Much Is a Kitchen Remodel?
Where you live, the size of your kitchen, the scope of your remodel, and your budget determine what you'll spend on a kitchen remodel. Let's take a closer look at these things:
Your location
Kitchen remodels cost more in certain regions and less in others. For instance, the average cost of a major or minor kitchen remodel is higher on the West Coast than in the Southwest. Also, kitchen remodels are costlier in urban areas compared to rural ones.
The size of your kitchen
The size of a kitchen in the United States typically ranges from 100 to 200 square feet. In some cases, it can be as much as 400 square feet. The cost of remodeling per square foot is $75-$250. The bigger the kitchen, the higher the cost per square foot.
The scope of your remodel
How much work do you want to do on your kitchen? There are three types of remodeling: minor, midrange, and major.
Minor remodel:

Minor kitchen remodels involve minimal work and cost between $24,000 and $26,000. It's a cosmetic job, so no major changes are made. You can do most of the work if you have the time and resources. Some things in the kitchen are replaced or revamped, while others stay the same. Painting the wall, replacing appliances and fixtures, and changing your backsplash are minor remodels.
Major remodel:

A major remodel requires extensive work and goes beyond surface changes. It involves completely changing the look of your kitchen in terms of its layout and features. Your kitchen will be torn down and reassembled, making it an extremely costly process, costing $100,000-$150,000.
Midrange remodel:

Midrange remodels go beyond cosmetic changes and cost $69,000-$75,000. They involve replacing flooring and cabinets and adding new features like an extra oven or a pot filler mounted against your backsplash.
Draw up a Budget
Create a budget, factoring in the cost of the materials you need for your remodel, and the cost of installing them. Most importantly, be sure to adhere to your budget. Once you go beyond it, you'll spend thousands of dollars more than you meant to. Unless you've got money to burn, focus on things you need. Things to factor in your budget include countertops, cabinets, backsplash, flooring, appliances, and lighting.
What to Factor in Your Budget
Countertops
Countertops get a lot of use. You can use many materials for your countertops; natural stones (granite, marble, quartzite), recycled glass, concrete, stainless steel, and laminate are a few. The cost of installing countertops is measured per square foot, costing an average of $2,300.
Cabinets
Cabinets take up a sizeable percentage of kitchen remodel costs. Many people replace or refresh their cabinets when upgrading their kitchen. On average, they cost $6,600 to install, but you can DIY a paint job to cut costs.
Backsplash
Backsplashes can be decorative as well as functional. You can use many materials, both pricey, like granite and marble, and affordable, like wallpaper and peel-and-stick tiles. The average cost of installing a backsplash is $900-$2,500.
Flooring
Laminate, vinyl, and linoleum flooring are more affordable than natural stone, tiles, bamboo, and hardwood flooring. Installing flooring costs $6-$10 on average per square foot.
Appliances
Swap out your old appliances for sleeker ones. You can opt for smart appliances, like refrigerators, ovens, microwaves, or coffee makers, to give your kitchen a modern feel. The average cost of appliances for your kitchen is about $3,800.
Lighting
Pendant lights and wall lights are more affordable lighting options than recessed lights, which are quite pricey at $800-$2000. The average cost of installing lighting is $1,050.
How to Minimize Spending on a Kitchen Remodel
If you want to upgrade your kitchen without spending much, try these tips:
DIY

: Instead of replacing certain features of your kitchen, try DIY. Paint your cabinets to give them a fresh look, and replace or spray paint their knobs and pulls. You can also paint your appliances. If you have the know-how, consider installing cabinets and light fixtures yourself.
Stick to your budget

: It can be hard to do, but you have to stick to your budget. It exists to prevent you from overspending. If you're working with a tight budget, the last thing you want to do is go over it.
Use inexpensive materials

: You don't need to use expensive materials to achieve an elegant look for your kitchen. Opt for more affordable alternatives that won't break the bank.
Prioritize your needs

: This is crucial when planning your budget. Unless you have tons of money to spend, put your needs above your wants. If you don't, you might find yourself with a kitchen full of things you don't need.
Hunt for bargains

: You can get a good deal on kitchen appliances and fixtures at thrift stores, discount stores, or online sales.
Add to the Value of Your Home With a Kitchen Remodel
If you're considering selling your home in the future, a kitchen remodel will increase its resale value. Kitchens are a big part of what people look out for when buying a house, so you want to ensure your remodeling job is good. To avoid getting it wrong, leave the tricky bits to the professionals.