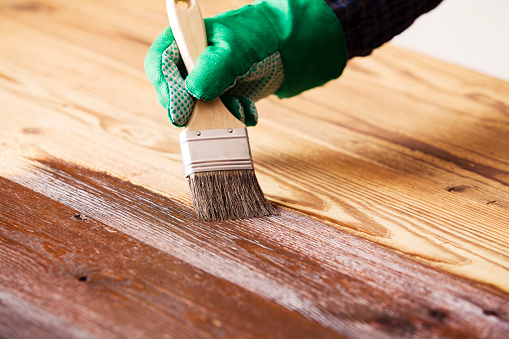 Did you find gorgeous secondhand furniture at your local thrift shop and have decided to give it a new life? Are you wanting to revive your furniture in 2022 and make them look shiny again?
Whether you are planning to paint your wooden furniture to make them look aesthetically appealing or to protect them from water or rot damage, knowing the right wood paint to use makes all the difference.
Using the correct wood paint for your wooden furniture will help you enhance its feature and bring out the best in them. In today's time, where you have a plethora of wood paints and wood painting services at your disposal, it is understandable for you to get overwhelmed and not know which wood paint to use for your next DIY wood painting session.
We have decided to help you out by bringing to you a complete guide that will help you pick the perfect wood paint for your wooden furniture.
What factors do you need to keep in mind while choosing wood paint?
Several factors play a key role in deciding which wood paint will be a perfect match for your wooden surfaces. Here are some important factors to consider.
What type of wood you are painting?

What's your budget?

Is it indoor or outdoor furniture?

Will it see heavy or low traffic?

Are you looking for a transparent or opaque finish?

How easy it is to apply?

How durable and resistant it is?
What are the popular type of finishes?
Today, you are spoilt for choice when it comes to choosing a wood finish. Here are some popular wood finishes that expert wood painters recommend for you.
Flat/Matte

Semi-gloss

Eggshell


Satin

High gloss
Different types of wood paints
Water-based Paint
If you are looking for a paint that is easy to apply, then water-based wood paint is perfect for you. The best part about them is that they dry faster, unlike oil-based paints. They are great for furniture pieces which are rarely used or kept in low-traffic areas as they are not as durable as oil-based paints. Another thing to note is that you will need to apply several coats of them to get the same coverage of that as oil-based paints. People who are looking for wood paint that is not shiny can consider checking out water-based wood paints.
Oil-based Paint
If you don't mind the toxic fumes or the strong odour and are looking for paint that will stand the test of time, then look no further than oil-based paints. Make sure that you wear your protective gear when you are handling oil-based wood paints.
Chalk or Milk Wood Paint
If you want to give your vintage furniture a rustic look and feel, then you can consider going for chalk or milk wood paint. They will give your furniture a worn-out and shabby-chic appeal. We would recommend you pick chalk paint over milk paint as it is more durable and won't chip off as easily as milk paint.
Alkyd-Based Oil Paint
Wondering what type of wood paint to use for your kitchen floors or bathroom cabinets? That is where alkyd-based oil paints come into the picture. They are formulated in such a way that they don't rot or turn yellow even after being over-exposed to moisture. A pro tip is to use this paint for standard trims around the house and your house floors.
Keep in mind that your exterior furniture is perpetually exposed to harsh weather conditions. Hence, you must choose a wood paint that is specially designed for exterior furniture. For exterior furniture, pick a firm wood paint that is highly durable and resistant to water, sun damage and dust.
Remember to always prime your wood to increase your wood paints' shelf life. Not confident about painting your wooden furniture on your own? Why not hire a wood painter from Asian Paints Safe Painting Service and let him help you transform your old wooden furniture?