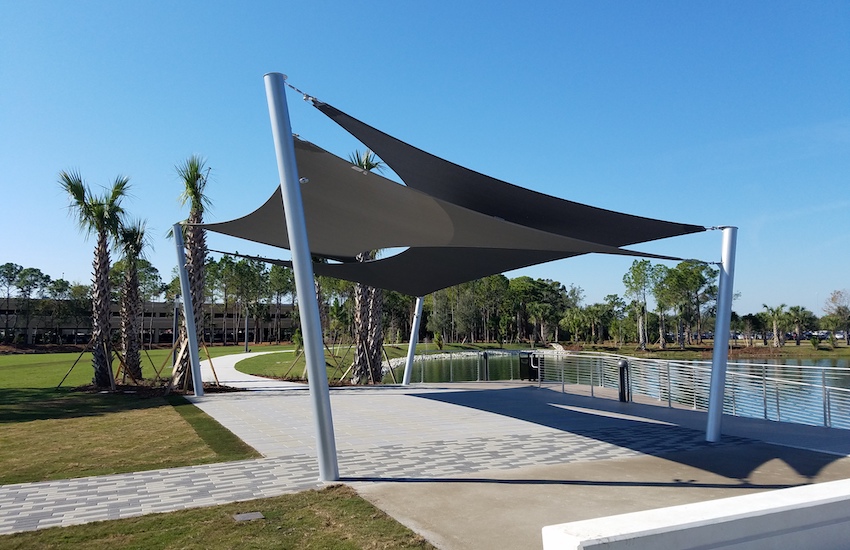 A shade sail is similar to the sail of a boat. But it is attached to an outdoor structure to create a canopy. The sails are twisted or tilted overhead and provide robust sun protection, especially on hot summer days. Today you can find an array of sails that meet the unique requirements of your place. But it is essential to choose the best quality ones for yourself. It's best to look for shade sails built with resistant and quality fabric and a commercial-grade outdoor sewing thread. Below are some considerations you should consider when thinking of installing this structure.
Assess the Material of the Shade Sail
There are three primary materials from which a shade sail is made. The greater the density of the material, the higher the strength of the shade sail. Usually, a shade sail weights the range of 150 to 340 g/m2. One made of polyester is both UV and weather-resistant. It's also effortless to maintain this sail for a prolonged time. A polyester sail is also resistant to tears.
A shade sail made of high-density polyethylene fabric helps block 80 to 97 per cent of UVB and UVA rays. This fabric has a porous nature. So heat escapes through, and the temperature underneath the sail is reduced by 10 to 30 degrees. It's also a fire-resistant fabric and can last for approximately 15 years.
Actshed design shade structures that unite people in aesthetically pleasing, useful, and engaging ways.
Consider the Shape and Style
You can find sails in a wide array of styles. But in terms of shape, you can find them in majorly three forms. These include triangles, squares, and rectangles. Of them, the most popular one is the triangular sail. It's because a square shade sail tends to bow in the centre due to water build-up. Triangular sails are ideal for small and large areas. You can also layer them to impart a more dramatic effect.
Take into Account the Weather Factor
Do you live in a windy area? In such a case, you should consider the weather before installing a sail. For expansive areas, it's a good idea to install multiple small sails rather than a single large one. It will prevent a vast canvas area from getting exposed to a wind force. Generally, a shade sail made of polyester will provide you with higher wind resistance. They are also more elastic, so you can install them in your area without getting bothered about the impact of a wind blast on them.
Pick the Right Colour
There are innumerable options for you, as a shade sail comes in various shades, colours, and tones. Lighter sails reflect a significant amount of sunlight. These shades don't absorb as much sunlight as the darker ones. When light strikes the lighter shades, their greater reflective rate will make the shade sail's surface appear brighter and glare more. So, you won't be able to see through lighter-coloured shades under the sun. Thus, they provide you with more privacy.
On the other hand, dark coloured sails absorb more heat and light from the sun. It implies that the area under the sail will be better protected from the sunrays. Moreover, darker materials don't retain heat efficiently. They quickly cool off when the air starts flowing through the mesh.
Always invest in sails built from a resilient material. You can trust
shade sails
with a two-year warranty on the workmanship. These sails get sewn with a thread that has a lifetime warranty. So, it doesn't degrade due to environmental impact. They are also appropriately installed by trained and professional staff in the place.
Author Bio: Hannah Gilbert is a freelance writer who offers ghostwriting, copywriting, and blogging services. She works closely with B2C and B2B businesses providing digital marketing content that gains social media attention and increases their search engine visibility.